Program Details
Produzioni Animali: Exploring Animal Production in Italy




The arrangements for the travel, housing, meals, excursions and course content of this program have been made by the leader. Questions about this program can only be answered by the program leader listed below.


Program Type
Departmental
Program Location
Milan, Verona, Bologna, Venice, Florence, Italy
Course #
SA 21262
Duration
Summer
Upcoming Program Dates
Summer 2023
05/13/23 to 05/23/23



Program Leader
Name
IPIA
Purdue University
Rm 104 Agriculture Administration Building (AGAD)
West Lafayette, Indiana 47907-1168

Phone: 765-494-6876
Fax: 765-494-9613
Email: AgAbroad@purdue.edu

Due to COVID-19, programs may be altered or adapted with little notice
Program Description
PRODUZIONI ANIMALI: EXPLORING ANIMAL PRODUCTION IN ITALY
Italy | May 13-23, 2023
Credits: ANSC 49500 – 3 credit?s
Cost in 2019: $2950
Discover livestock and poultry production in Italy. Program participants in this 3-total credit hour experience will visit dairy farms in the Alps, learn about swine production in Parma, and discover how water buffalo are used to produce mozzarella cheese in Lombardy. Students will enjoy sampling parmigiana reggiano cheese, learning how balsamic vinegar is produced, and savoring prosciutto di Parma!
During the course, we will visit with students at agricultural universities, interact with local producers, and engage in conversation with animal industry representatives. Along the way we will compare and contrast animal production practices in Italy and the United States. Time will also be spent exploring cultural sites in Milan, Verona, Florence, and Venice.
CALLOUTS:
September 20th - 7 PM - CRTN 1042
November 1st - 7 PM - CRTN 1042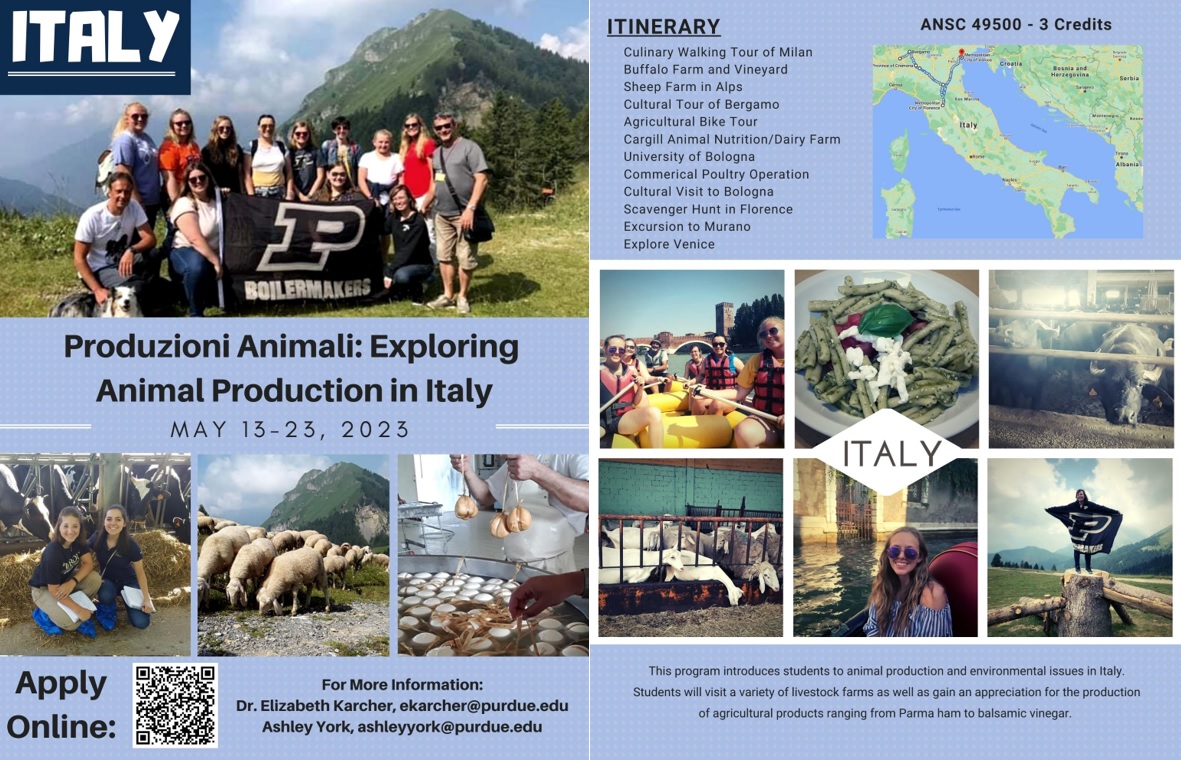 Program Cost
Students pursuing program participation accept financial responsibility. Purdue will take measures to mitigate financial risks, although will not be liable for loss.
.
Financial Aid
Purdue University financial aid may be applied to the costs of studying abroad. Students interested in receiving financial aid should
NOTE: Recipients of certain tuition remission and scholarship programs should pay careful attention to the regulations for using those benefits for study abroad. Ask your financial aid advisor about any limitations.
Click here for a list of scholarships and grants available to assist with the costs of studying overseas.