Program Details
Peru International Engagement in Agriculture




The arrangements for the travel, housing, meals, excursions and course content of this program have been made by the leader. Questions about this program can only be answered by the program leader listed below.


Program Type
Departmental
Program Location
Lima, Cusco, Peru
Course #
SA 21266
Duration
Spring Break
Upcoming Program Dates
Spring Break 2023
03/11/23 to 03/19/23



Program Leader
Name
IPIA
Purdue University
Rm 104 Agriculture Administration Building (AGAD)
West Lafayette, Indiana 47907-1168

Phone: 765-494-6876
Fax: 765-494-9613
Email: AgAbroad@purdue.edu

Due to COVID-19, programs may be altered or adapted with little notice
Program Description
INTERNATIONAL ENGAGEMENT AND COMMUNITY DEVELOPMENT IN PERU
Peru | March 10-19, 2023
Credits: ASEC or BTNY 43110 - 3 credits
Cost in 2022: $2911
Using established partner relationships, students will work with international partners to address identified challenges to learn the principles of extension methodology and sustainable community development by integrating their discipline knowledge and technical skills from previous courses. Students will also learn the intercultural communication, market analysis, project design and planning, business planning and business ventures, and cultural factors affecting community food security while they work in bi-national teams. Some key objectives are to strengthen learning, literacy, and life skills of Peruvian and Purdue students through mutually beneficial engagement to improve lives and livelihoods. Students will also be required to register for a preparation seminar spring 2023 and a post course spring 2023. Students will earn a total of three academic credits for this experience.
Three-course sequence (3 credit total)
ASEC or BTNY 43100 Planning for International Engagement Methods – cr. 1


M & W, 3:30-4:20, LILY 3-102

SA Spring Break Peru (ASEC 43110 International Engagement Methods and Food Security) – cr. 1
ASEC or BTNY 43120 Evaluating International Engagement Methods - 11473 - ASEC 43120 – cr. 1
               Approved Certificate in Entrepreneurship and Innovation Capstone course
               Three credits of International Understanding for the College of Agriculture
Callout: September 29, 2022 at 6:00 pm in Lilly 3-102  POWERPOINT SLIDES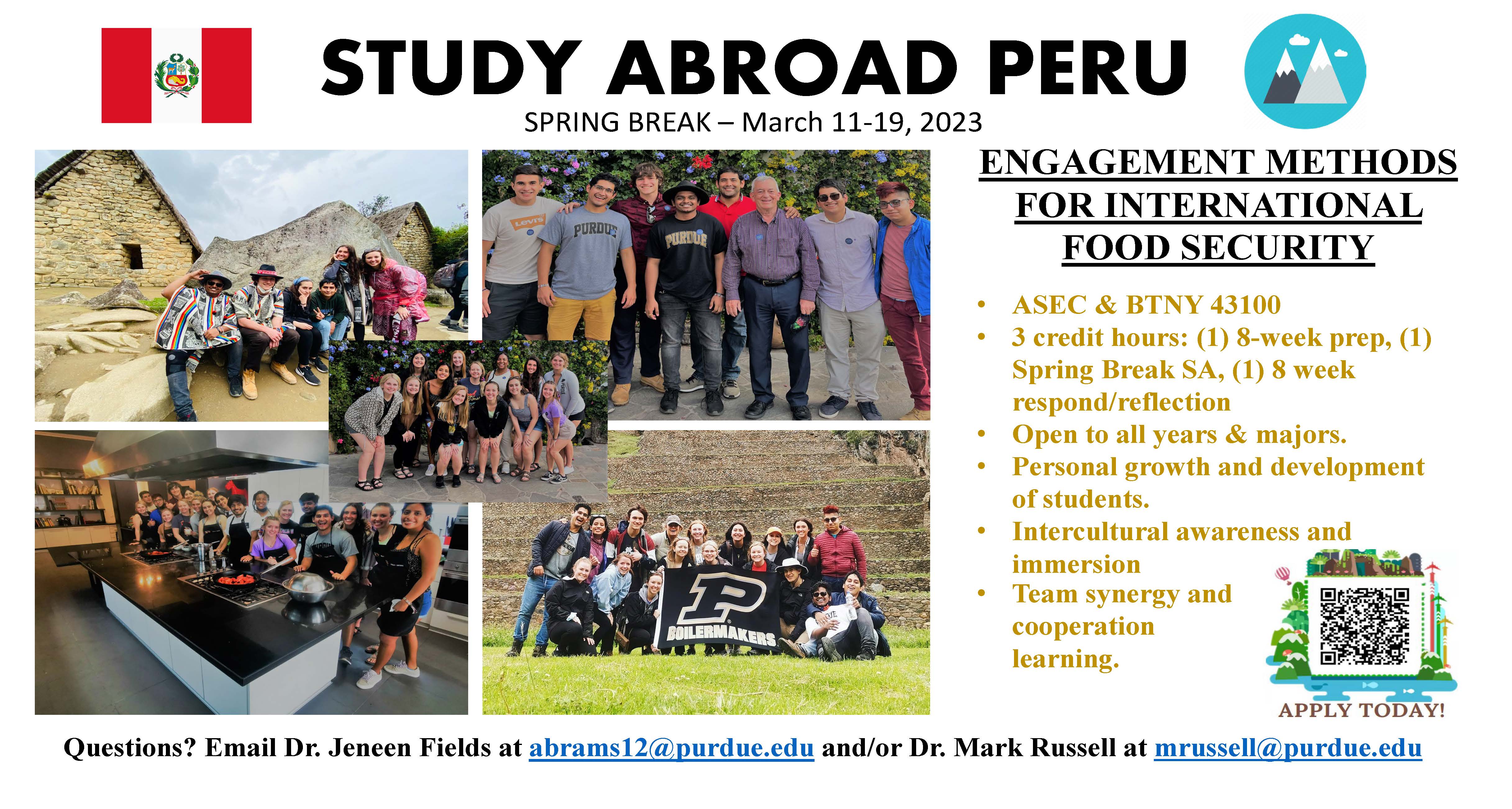 Program Cost
Students pursuing program participation accept financial responsibility. Purdue will take measures to mitigate financial risks, although will not be liable for loss.
Application Deadline
Now includes Machu Pichu and the cost is $2,912 with all travel, lodging and most meals included. 
Financial Aid
Purdue University financial aid may be applied to the costs of studying abroad. Students interested in receiving financial aid should
NOTE: Recipients of certain tuition remission and scholarship programs should pay careful attention to the regulations for using those benefits for study abroad. Ask your financial aid advisor about any limitations.
Click here for a list of scholarships and grants available to assist with the costs of studying overseas.