Program Details
Agriculture in Ireland




The arrangements for the travel, housing, meals, excursions and course content of this program have been made by the leader. Questions about this program can only be answered by the program leader listed below.


Program Type
Departmental
Program Location
Dublin, Kildare, Cork, Clare, Galway, Ireland
Course #
SA 21263
Duration
Spring Break
Upcoming Program Dates
Spring Break 2023
03/11/23 to 03/19/23



Program Leader
Name
IPIA
Purdue University
Rm 104 Agriculture Administration Building (AGAD)
West Lafayette, Indiana 47907-1168

Phone: 765-494-6876
Fax: 765-494-9613
Email: AgAbroad@purdue.edu

Due to COVID-19, programs may be altered or adapted with little notice
Program Description
AGRICULTURE IN IRELAND
Ireland | March 11-19, 2023
Credits: AGR 49300 – 1 credit?s
Cost in 2022: $2932
Learn about Irish culture, history, food processing, agribusiness and farming while visiting the sights of Ireland. Students will explore Dublin, Kildare, County Tipperary, Cork, and Galway. Visits to the Cliffs of Moher, Kilmainham Gaol, Irish National Stud, Bunratty Castle, Kylemore Abbey and farms are on the agenda. Students will earn one credit.
Callout: September 14, 2022 @ 5:30 PM in WSLR 116.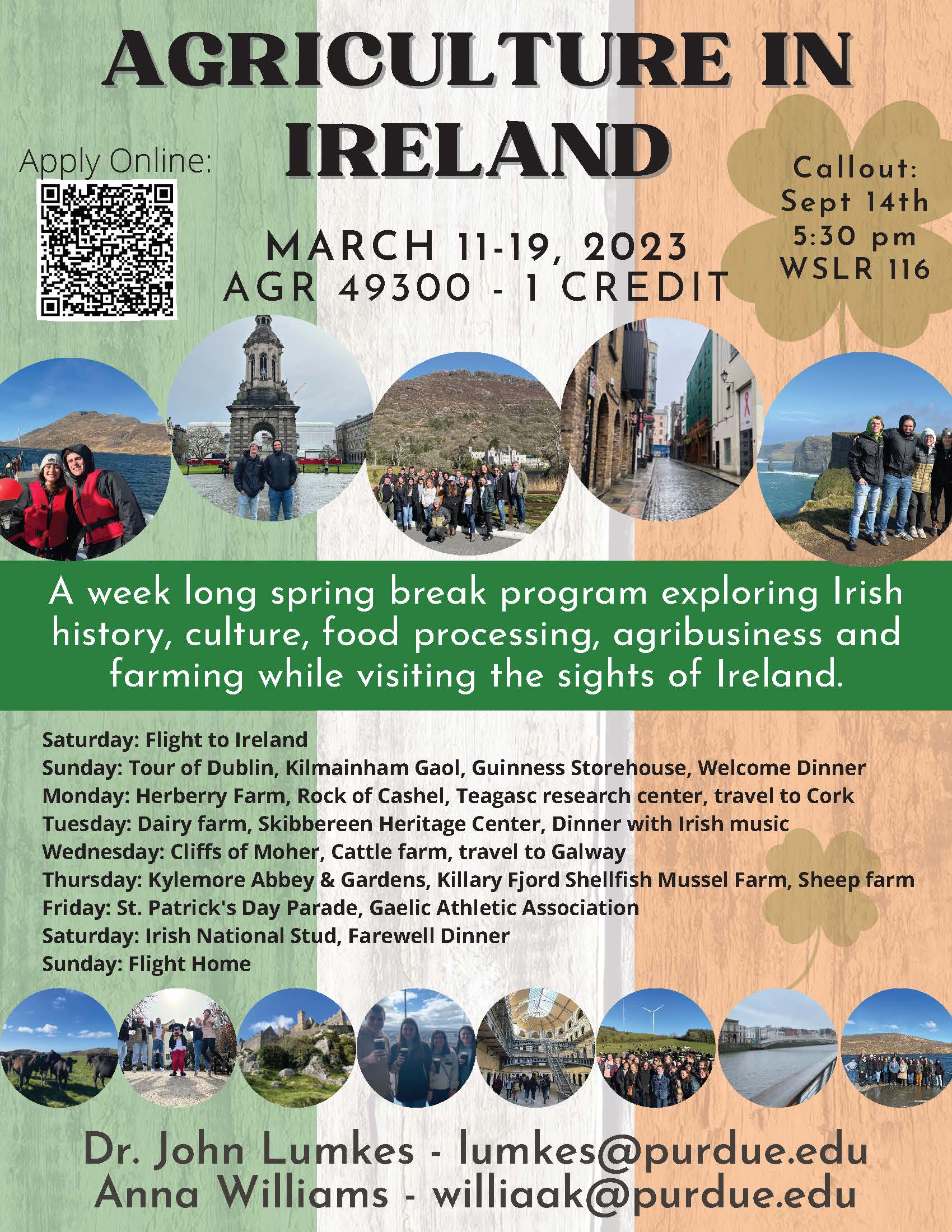 Program Cost
Students pursuing program participation accept financial responsibility. Purdue will take measures to mitigate financial risks, although will not be liable for loss.
Financial Aid
Purdue University financial aid may be applied to the costs of studying abroad. Students interested in receiving financial aid should
NOTE: Recipients of certain tuition remission and scholarship programs should pay careful attention to the regulations for using those benefits for study abroad. Ask your financial aid advisor about any limitations.
Click here for a list of scholarships and grants available to assist with the costs of studying overseas.