Study Abroad Newsletter
Scholarships Awarded
Author: M. Bittinger
Posted: 13-Dec-10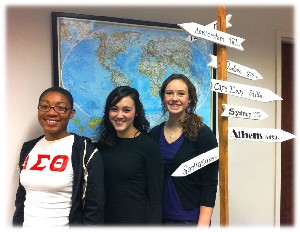 Over $120,000 in scholarships and Grants were given to students heading to more than twenty countries this spring. In addition, three Purdue students were awarded the prestigious Benjamin A. Gilman International Scholarship.
The Gilman Scholarship Program awards those participating in study abroad programs who also receive Pell Grants. They support undergraduates who might not otherwise participate due to financial constraints. Gilman aims to encourage students to choose non-traditional destinations, especially those outside of Western Europe, Australia and New Zealand.
For the spring term of 2011, Gilman awarded thousands to three Boilermakers to fund their overseas programs. Abby Brown, a junior in the College of Engineering, from Beaver Falls, Penn., will be studying in Germany; Aida Carillo, a sophomore in the College of Health and Human Sciences from Lafayette, is headed to the Dominican Republic; and Loren Cobbs, a senior in the Krannert School of Management from West Chester, Ohio, is on her way to Cape Town, South Africa.
For more details about financing a study abroad program, click here.

Newsletter Links: [Current Articles] [Archived Articles]
[Sign up] to receive newsletter updates in your email.