Study Abroad Newsletter
Designed Abroad
Author: M. Bittinger
Posted: 10-Jan-10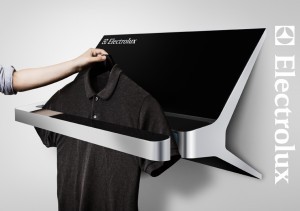 Industrial design student, and two-time study abroad participant, Louis Filosa, was awarded third place in the Electrolux Design Lab competition. Design Lab is a global competition for the designing the household appliances of the future.
Louis cultivated his creative style in Florence, Italy while studying abroad with Studio Art Centers International. Like many students who study overseas, his experience helped shape his future.
"I still remember coming back from Firenze in the Fall of 2005...art had such a profound influence on me. It's because of the Study Abroad Office that I found my true passion."
Wanting to build on his knowledge and again gain access to European influences, Louis then took part in the DIS Design Program in Copenhagen, Denmark.
Filosa's winning design was for a smart steamer that cleans and refreshes clothing called Renew. He was the only finalist from the US and was awarded a 2,000 Euro prize. Click here to learn more about Louis Filosa and Renew. View his YouTube video.
Newsletter Links: [Current Articles] [Archived Articles]
[Sign up] to receive newsletter updates in your email.