Study Abroad Newsletter
What Study Abroad Can Do For You
Author: M Bittinger
Posted: 11-Jan-10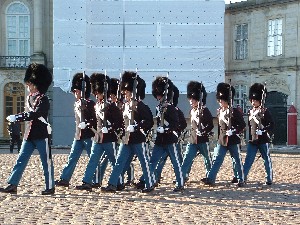 Changing of the Guard at Denmark's Royal Palace
Meredith Rees, (Political Science '08) had her first international experience the summer prior to starting at Purdue. She went to Quebec, Canada with the University Honors Program. During the spring semester of 2007 she studied in Copenhagen, Denmark. There, she enrolled in a European Politics and Society program through the organization DIS.
Meredith learned both inside and out of the classroom. She was able to study the European Union from a local perspective. She also learned a lot about herself while abroad. Through her travels, Meredith gained a better understanding of what she is capable of. She says that after conquering the subway system in Moscow, there wasn't anything she couldn't do. Meredith continued to excel and utilize what she learned. Her experiences abroad gave her a better understanding of the world, helped her in classes, and were instrumental in landing a foreign policy internship at the State Department the next year. The independence and confidence she gained during study abroad made it much easier to move to Washington D.C.
Upon graduation, Meredith was awarded the Outstanding Senior Award by the College of Liberal Arts. Study abroad led to her internship, which led to the position she now has with the National Security Agency (NSA). Meredith is currently working as an Intelligence Analyst. She says that it would have been almost impossible for her to get the job without her international experience. The topic dominated the job interview, and that is why Meredith believes that study abroad was essential to her success.
Newsletter Links: [Current Articles] [Archived Articles]
[Sign up] to receive newsletter updates in your email.