Study Abroad Newsletter
Greeks Compete for Global Title
Author: Natalie Buchs
Posted: 07-Sep-10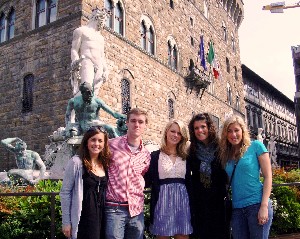 Phi Kappa Psi & Alpha Phis in Florence, Italy
Top Sorority Participation:
Kappa Kappa Gamma
Delta Zeta & Kappa Alpha Theta (tie)
Alpha Chi Omega
Top Fraternity Participation:
Phi Gamma Delta
Delta Chi
Farmhouse
Greeks take pride in their accomplishments. While all can be commended for philanthropic efforts, some are renowned for high GPAs, others for their success on the intramural fields. A new area of distinction is now being established by Purdue's Greek community; studying overseas. The Study Abroad Office is recognizing houses that have the most members who've obtained international experience by having taken part in their programs.
The current rankings are extremely tight. Zeta Tau Alpha, Sigma Kappa and Phi Mu are within a few participants of the top spots for sororities and Beta Theta Pi, Pi Kappa Phi and Sigma Chi aren't far behind for the fraternities.
When informed she was part of the top sorority house, Kappa Kappa Gamma member, Kara Palmer (Florence, Italy) had this to say. "Being in the sorority with the highest study abroad participation is a something I am very proud of. It is encouraging to know I live with women who take the opportunity to challenge themselves by investing time outside their comfort zone, and their country. I have seen firsthand the positive impact that study abroad has had on me, my Kappa sisters, and the Greek community as a whole." The houses taking advantage of the numerous study abroad opportunities offered at Purdue are reaping benefits other than bragging rights. Ashley Stapleton, a fellow Delta Zeta who studied in Ireland, claims, "I think it's awesome that we are one of the top houses to study abroad. Not only do we get to have those amazing experiences, but then we can come back and share them with our sisters!"
The Greek community will continue to participate in study abroad because many know about the benefits. Now that a challenge has been issued and a sense of competition has been established, participation is likely to increase. Michael Bittinger, Marketing Coordinator for Purdue Study Abroad, believes Greeks & Study Abroad have common bonds. "Studying abroad allows students to take control of their personal and professional future. The challenges presented by this type of travel gives students the opportunity to test their skills, and to acquire new ones. Friendship, knowledge, and opportunities for personal growth are values sought by Greeks and specifically provided by our overseas programs.
Newsletter Links: [Current Articles] [Archived Articles]
[Sign up] to receive newsletter updates in your email.