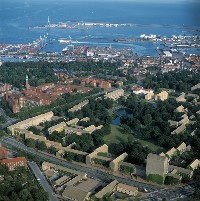 Experience life in one of the happiest countries in the world when you study abroad in the Scandinavian country of Denmark. Aarhus is historically one of the oldest cities in Denmark but demographically one of the youngest, creating a vibrant mix of youthful energy with rich history and culture.
Students at Aarhus will have the opportunity to:
Learn in the Scandinavian study style that values an analytical approach, group work, and student-teacher interaction
Integrate into a society that believes in "hygge" – making people feel at home
Make friends from all over the world at one of the largest international business schools in Europe
University: Aarhus is known as one of the top 100 universities in the world with a strong international base of students. Founded in 1928, the school is publicly recognized for its education and research. Aarhus offers a range of disciplines such as journalism, engineering, music, dentistry, theology, and architecture. Students are encouraged to participate in academic clubs and social activities to complement their coursework and international experience.
Location: Located just three hours outside Copenhagen, Aarhus is home to over 300,000 people in its city center. Although the city was founded in the 8th Century, Aarhus is young at heart with students making up 13% of the population and growing. Today, the city is a main hub for trades and services and plays a critical economic and cultural role in Scandinavia. With its strong musical traditions, Aarhus is home to a plethora of rock bands, jazz musicians, concert halls, and music producers.
For more program information, please visit the
program website
.