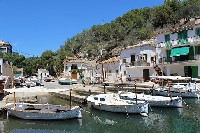 Students applying for programs in Spain must have a valid, usable passport at the time of application. Passport must be valid for 6 months after the program end date.
ATTENTION: CIEE will be providing an automatic Trailblazer travel grant toward airfare expenses of up to $1,500 to any Purdue student who participates in this spring or fall 2024 program!

Nestled in the heart of the Mediterranean, Palma de Mallorca is a bustling capital city with a laid-back island atmosphere. Its pristine beaches, rich history, fantastic nightlife, and one-of-a-kind gastronomy make it easy to see why Mallorca is a favorite among European tourists.
The port city of Palma is dominated by an impressive Gothic Cathedral, the elegant Moorish Almudaina Palace, and the round Medieval Bellver Castle. Mediterranean in essence, the palm-fringed marina bristles with masts, and beyond lies a tapestry of Gothic, Medieval, Modernist, and Moorish architecture, tiny shops, and busy squares. The flat terrain makes for easy walking and biking.
Specifically designed for Hospitality and Tourism Management majors, HTM students can complete 320 hours of a supervised internship in Palma de Mallorca as well as earn 12-15 credits towards their Purdue degree.

ALL PARTICIPANTS will complete the regular CIEE Semester in Palma program, taking courses with CIEE and at the Universitat de les Illes Balears (UIB) and completing a part-time internship (approx. 20 hours per week) during the semester.
FALL SEMESTER PARTICIPANTS - Students will arrive in mid-August, prior to the start of fall classes, and intern 30 hours per week until classes start. At the end of the program in December, they will have completed total of 320 internship hours.

SPRING SEMESTER PARTICIPANTS - At the completion of the spring semester classes in June, students will continue to work 30 hours per week until late June, earning total of 320 internship hours.
For more program information, please visit the
program website
. This program is sponsored by:
CIEE
.