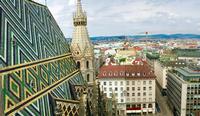 As the famous psychologist Carl Rogers once said, "This is where all the trouble started!" In Vienna, the birthplace of psychoanalysis and home to Sigmund Freud and numerous other legendary psychologists, you can experience both the history and practice of psychology from a unique vantage point. Explore the richness of this city's past and present in an academic environment specially designed for the student of Psychology.
Located in the heart of Europe, Vienna is a city of almost 2 million inhabitants that, since its founding in the 3rd century, has served as a bridge between a myriad of cultures.
Situated on the Danube River not far from the Alps, Vienna is the capital of Austria, an EU member state that enjoys advantages as a crossroads between East and West, North and South. It hosts a wide variety of international organizations and, with its historical role in music and the arts, offers cultural opportunities that are second to none.

For more program information, please visit the
program website
. This program is sponsored by:
IES
.