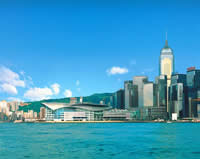 City University of Hong Kong, also known as CityU, was founded in 1984 with an emphasis on diversity and intercultural learning and prides itself on having international partnerships with 300 institutions from 37 countries. The University aspires to become a leading global university in research and technology.
CityU offers programs in science and engineering, liberal arts and social sciences, and business. Their approach to education is heavily influenced by the philosophy of "whole-person development", a contemporary theory about learning and development that strongly resembles traditional Chinese educational philosophy. Subject to particular focus are the spiritual, intellectual, physical, social, and aesthetic elements of education, coupled with special attention paid to the emotional and career development aspects typical to Western educational philosophies. Employing interactive, IT-based teaching methodologies, CityU creates an ambiance that encourages intellectual curiosity, social interaction, self-expression, and mutual support.
Hong Kong, one of the most densely populated cities in the world, is home to seven million people. With over 580,000 expats living, working, and studying in Hong Kong, you'll fit right in to this melting pot in the east.
For more program information, please visit the
program website
.