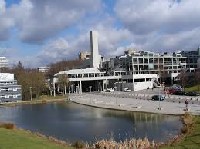 IMPORTANT: This program has a FEBRUARY 1 application deadline. The sooner your application is approved by Purdue Study Abroad, the sooner you can begin your formal application to the host university. Moreover, Stuttgart limits each class to 18 students. If you need to take a specific class, applying early is crucial.
The Summer University at the University of Stuttgart is an excellent opportunity for students with little or no exposure to German to experience a total immersion in the German language and culture right in the heart of Europe.
Students take a mandatory German language course and choose one of four content courses (taught in English) for a total of 6 credits.
INTERNATIONAL STUDENTS: You will most likely need a visa to study in Germany. Thus, you should complete your Purdue study abroad application as early as possible. The sooner you complete your application, the sooner it will be reviewed. If you are accepted to the Purdue SA program, you can then start on your Stuttgart Summer University application.
For more program information, please visit the
program website
.