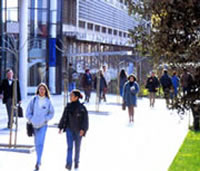 Participants take courses at the Institute for Foreign Students of Paul Valéry University. There are five teaching levels and students are placed according to their level of French language proficiency.
Within easy reach of both mountains and the Mediterranean, and home to 100,000 university students, Montpellier is a young, vibrant city with a centuries-old history of intellectual advances and social tolerance. It is the ideal place for an introduction to French language and culture.
For more program information, please visit the
program website
. This program is sponsored by:
University of Minnesota
.