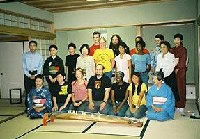 Tokyo, with a population well over 10 million, is the political and financial capital of today's Japan. Tokyo is a modern city of wonderful contrasts. Its dignified temples and shrines quietly stand in the shadows of massive skyscrapers. Tokyo's fast pace is subdued by the serene charm of its many parks and the quiet courtesy of its people. Both energetic and graceful, Tokyo is a gateway to the fascinating culture of Japan.
The IES program is located in Makuhari, a modern city in Chiba prefecture - an easy 30 minutes from downtown Tokyo. Students will have easy access to public transportation and amenities such as shopping centers, restaurants and entertainment.
The spring semester typically begins the end of March and runs until mid-July.
The fall semester typically begins the end of August and runs until mid-December.

For more program information, please visit the
program website
. This program is sponsored by:
IES
.