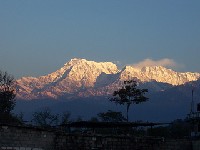 As the tallest mountain range in the world and home to diverse and vibrant cultures, the Himalaya are a preeminent place to study geoscience. The geological contrasts within the country of Nepal are dramatic and unequalled: from the flat Ganges River plain near sea level to the highest point on Earth—Mt. Everest.
In this program, students will engage in classic field geologic skill development and innovative inquiry of human-Earth systems. The program focuses on field geoscience, geohazards, and environmental science in the context of human interactions and sustainable development in Nepal.
Study how immense mountain ranges form and continually transform.
Investigate the hazards and benefits of living in a dynamic natural environment.
Conduct field research and acquire proficiency in geologic field techniques.
Analyze human interaction with Earth systems.
Examine how societal decisions affect the geohazard risks faced by human populations.
Analyze steps for risk reduction that align with sustainable development practices.
For more program information, please visit the
program website
. This program is sponsored by:
SIT
.