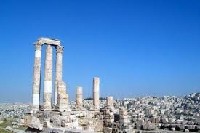 Amman has an ancient history and a diverse, vibrant modernity. It is an accessible, cosmopolitan city with numerous museums, art galleries, and theaters--not to mention the delicious variety of Arabic food. With its reputation for security and hospitality, Amman is home to inhabitants from all over the Middle East. The city provides a safe and stable environment for students to learn about the region.
Students will have every opportunity to immerse themselves in Jordanian culture. Special guest lectures by government officials, activists, and local experts enrich the academic program. They are encouraged to use your Arabic language skills in everyday settings. This fosters Arabic language proficiency and a better understanding of Jordanian society. CIEE also coordinates a series of local site visits and cultural activities. CIEE staff will help keep participants up to date on local cultural events, such as conferences, films, and concerts.

For more program information, please visit the
program website
. This program is sponsored by:
CIEE
.