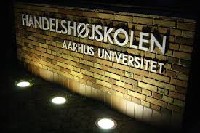 The City: With a population of more than 300,000, Aarhus is Denmark's second largest city. Previously, it was accepted that the town of Aarhus was founded around the year 900. However, recently archaeologists have found the remains of a Viking settlement dated circa 770 making Aarhus one of Scandinavia's oldest cities.
On the site of a former Viking settlement, Aarhus itself constitutes one of Denmark's fastest growing cities with a young population and a renowned musical heritage. Concert halls and live music venues are in plentiful supply and each year the city plays host to the eight-day SPOT music festival
The University: Aarhus University is a young, modern university established in 1928. It is considered among the top 100 universities in the world.
As a student at Aarhus University you will become part of an international study environment characterized by research excellence and innovation. The university's academic system encourages critical thinking and active learning.
Aarhus University offers more than 60 complete programs in English at the undergraduate and graduate levels. At AU, teachers are active researchers and teaching takes place in an informal context. All programs are deeply rooted in research and are reviewed on an ongoing basis to meet the highest national and global quality standards.
For more program information, please visit the
program website
.