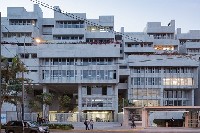 The University of Engineering and Technology (UTEC, by its name in Spanish) is a higher education institution committed to educate young engineers capable of setting their ingenuity into practice.
The objective of the university is to provide a comprehensive and interdisciplinary education, providing students not only scientific and technological knowledge, but a solid humanist ground. Backed by an active learning methodology, UTEC is looking to develop skills that will allow students to bring up creative solutions committed with the environment.
A nonprofit institution, the university promotes a new way of thinking about engineering. In such sense, it has a multidisciplinary distinguished team of professors in charge of guiding the steps of future engineers.
Fall Semester is August-December; Spring Semester is March-July.
For more program information, please visit the
program website
.