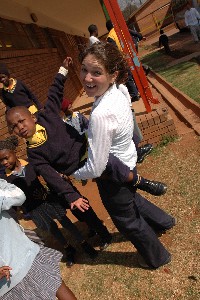 The CIEE-Cape Town: Arts +Sciences Program at the University of Cape Town is designed for students with a strong interest in contemporary South African life and society. Participants are required to enroll in at least one course with specific African content and may choose to participate in a community service option.

With a glorious climate and natural icons like Table Mountain and stunning beaches, it is no wonder that Cape Town is Africa's number-one tourist destination. Day and night, this multicultural city offers much to do: water sports, mountaineering, nightclubs, and restaurants. As a microcosm of many African countries in transition, Cape Town also illuminates the issues of joining the global economy while grappling with vast socioeconomic inequalities born from its colonial and apartheid past.
For more program information, please visit the
program website
. This program is sponsored by:
CIEE
.