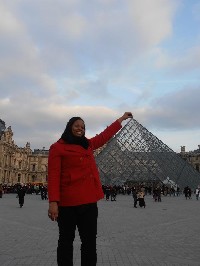 When most people think of Paris, they think of iconic sights, like the Eiffel Tower, Notre Dame, and the Arc de Triomphe. These sites are emblems of France's history, but today Paris is one of the most important business, financial, and political centers of the world. It has one of the highest GDPs of any city and is home to Fortune Global 500 companies that specialize in insurance, banking, and energy. As an important location in the European Union, Paris is also home to international agencies such as the European Institute for Security Studies, the OECD, and UNESCO.
Enjoy all that Paris has to offer while studying Business and International Affairs in the City of Light. If your French is at a high level, you can also enroll in an internship, which includes time spent working at your placement and an academic seminar that helps you contextualize what you're learning.
This program offers IES Abroad courses taught by faculty from diverse backgrounds and disciplines. In addition to your IES Abroad courses, you can take English taught courses with French and international students at Paris School of Business, a business school located in the 13th arrondissement of Paris. For more program information, please visit the
program website
. This program is sponsored by:
IES
.