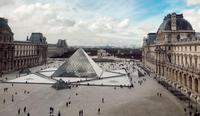 With its grand boulevards, world-famous monuments, unparalleled literary and artistic history, and simple joie de vivre, Paris is a city that will change you forever.
Paris is a multifaceted and multicultural metropolis that offers a doorway to the cultures of the world. It teems with people from former French colonies like Senegal and Morocco, Asian and European immigrants, and business people and scientists from around the globe.

Classes are held at the IES Center which is located in the colorful Montparnasse area within walking distance of the Latin Quarter. Facilities include offices, classrooms, a student lounge and a small library.
This program combines rigorous study of the French language at an advanced level with a broad range of classes taught in French by accomplished faculty. You can also experience what life is like for French students by taking one or more courses at a local university— we have six options you can choose from. Tutoring is available if you need help with the transition to higher education in France.
You can also add international work experience to your résumé while earning credit by participating in an internship placement and accompanying academic seminar at no extra cost.

For more program information, please visit the
program website
. This program is sponsored by:
IES
.