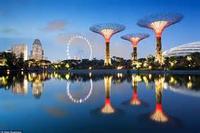 Once a British colonial trading post, Singapore is today a thriving global financial hub and described as one of Asia's economic "tigers." The country is considered to be one of the most cosmopolitan and prosperous destinations in the world. With its beautiful beaches and dazzling skyscrapers, Singapore is a mix of unearthly beauty and modern technology. It is also widely known for its cleanliness, cosmopolitan vibe, and electronics. The country also has one of the highest percentages of expatriates in the world and every year Singapore sees more and more people from all across the globe moving to the island to find new opportunities and excitement.
NTU has been ranked 11th in the world and 1st in Asia in the latest 2018 QS World University Rankings. The QS Asia University Rankings 2018 ranked NTU 1st in Asia, displacing NUS which dropped to 2nd place. NTU also came in overall 1st in the world in the ranking of young universities for four consecutive years in the QS Top 50 Under 50 rankings from 2015 to 2018.
A summer in Singapore, a perfect 'soft landing' in the heart of booming Asia-Pacific region and a springboard to explore the many cultures, languages and societies surrounding the country, which includes India, China, Vietnam and many more. NTU's unique summer program will bring students an education that prepares them for the new global reality. They will be immersed in Asian cultural experiences and opportunities while gaining knowledge about entrepreneurial skills they can use for venturing into Asia, a region with more than 4.3 billion people.

For more program information, please visit the
program website
.