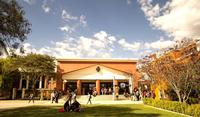 Founded in 1988, USFQ is one of the most distinguished private universities in Ecuador. USFQ's campus is located in an attractive suburb about 40 minutes by bus or 15 minutes by taxi from central Quito.
USFQ offers nearly 2,000 courses each semester in a wide variety of disciplines in which more than 80 courses are taught in English. Students with almost any academic interest can find exciting and challenging enrollment options.
Outside of the classroom, students can enjoy what the city of Quito has to offer. Surrounded by vibrant neighborhoods and beautiful colonial architecture that makes the city a UNESCO World Heritage Site.
For more program information, please visit the
program website
.