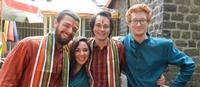 An international hub for research and education, Pune is also home to both countless NGOs and a thriving IT sector. Factor in a rich culture and deep spiritual roots, and you've got a fascinating new environment in which to pursue your studies in public health, international relations, social justice, and more, guided by dedicated IFSA educators who are experts in their fields.

Take advantage of our IFSA Pune staff's deep local connections and get to know India through the lenses of food, media, health, economics, art, and social justice. Learn about ancient customs and explore India's many tastes with your carefully selected host family, and explore the city's may sights with Indian peers as your guides. It's all part of an unforgettable semester full of newness, challenge, and growth.
For more program information, please visit the
program website
. This program is sponsored by:
IFSA-Butler
.