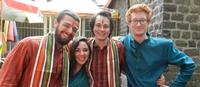 Study the largest democracy in the world as you live and learn in Pune, a thriving city where you'll find the combination of the spiritual and entrepreneurial fascinating. With opportunities to study public health, economics, gender studies, and more, you'll find Pune the perfect backdrop for your academic endeavors. At the end of eight or twelve weeks of exploration with your IFSA cohort, you can let your new knowledge of India's distinct and varied cultures shine in your future endeavors.
Don't just study contemporary India – live it! Immerse yourself in the cultural capital of Maharashtra, with a thriving university scene and active development community leading the next generation of Indian innovation.
This program has several summer sessions and Purdue students are required to do 2 sessions, by choosing one of the following options:
Session I + Session II (8 week program, 6 credits)
Internship + Class (8 week program, 6 credits). Students will do an internship, plus take one class from Session I or Session II. Option to take a class in both sessions for extra credits (additional fee applies).

For more program information, please visit the
program website
. This program is sponsored by:
IFSA-Butler
.