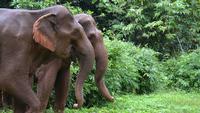 Meet the gentle giants of Mondulkiri. Spend your summer in the lush Keo Seima Wildlife Sanctuary, studying the behavior and ecology of the endangered Asian elephant. Examine human-wildlife conflict and conservation pressures and discuss elephant welfare and management practices. Visit the vibrant city of Phnom Penh and the ancient temples of Angkor to explore the history and culture of Cambodia.
Stay at the Elephant Valley Project in the forested Keo Seima Wildlife Sanctuary to observe Asian elephants from meters away as they forage, bathe, and interact with each other in a protected setting.

For more program information, please visit the
program website
. This program is sponsored by:
School for Field Studies
.