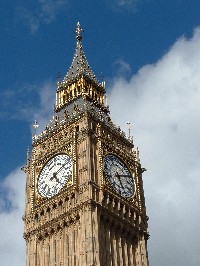 For more information or for questions email Chelsey Mullins, mullins4@purdue.edu
Click here to view a recorded callout for this program.
Please note that the dates listed above are the DEPARTURE dates. You need to arrive in London on Tuesday, May 14, 2024. If you arrive before that, you will have to pay for a hotel room.
Important: To obtain the necessary visa, all students must have a valid passport that does not expire within the calendar year the program is taking place by February 1st. If you need to apply for or renew a passport, please keep passport processing times in mind and apply early to make sure you have it by February 1st.

Interns will live in London, one of the world's most cosmopolitan and international cities, and commute to work by 'tube.' London is filled with museums, art galleries, and major tourist attractions, including Big Ben, the Tower of London, Westminster Abbey, Trafalgar Square and Piccadilly Circus, that can be explored leisurely on weekends. Students will be able to take advantage of London's theater productions and musical performances, visit designer stores and chic restaurants, stroll in Hyde Park, take 'high tea,' and explore the many ethnic neighborhoods which make up this historic and diverse metropolis.
The London Internship Program combines a three-credit unpaid internship with a three-credit academic course over a seven-week period. The London Internship Program is designed to allow students to study and work in an international setting while developing an appreciation for British culture.

Students from the following colleges/schools/departments/programs are eligible to participate:

College of Agriculture:
Agricultural Economics

Agricultural Sciences Education and Communication

(AgComm only)
College of Health & Human Sciences:
Nutrition Science
Hospitality and Tourism Management (includes CSR majors)

Human Development and Family Studies
Health and Kinesiology
Psychological Sciences

Public Health

College of Liberal Arts:
Communication
English
Film and Video Studies

History
Political Science
Sociology
Anthropology
Visual and Performing Arts (Art & Design and Theater)
College of Science:
Biological Sciences

Chemistry
Computer Science
Statistics
Entrepreneurship & Innovation Program
Certificate in Entrepreneurship & Innovation

Polytechnic Institute:
Computer Graphics Technology
Engineering Technology (MET only)
Technology Leadership & Innovation (HRD & OLS)

School of Management:
YOU MUST BE IN A MAJOR FROM ONE OF THE ABOVE DEPARTMENTS, and you must complete an internship within your major, not minor, to participate in this program!