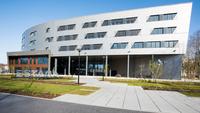 Study in English and discover Paris! Apply now to ESTACA's Computational Fluid Dynamics Summer Program. ESTACA has become one of the leading engineering schools in France. It is regarded for the excellence of its aeronautical, automotive, railway, and aerospace engineering academic programs. During this summer program, you will learn to operate CFD (Computational Fluid Dynamics) tools to understand and predict aeronautical systems, performances and behavior.
The school is located in Saint-Quentin-en-Yvelines, just 10 minutes from Versailles and 30 minutes from the Eiffel Tower. Saint-Quentin-en-Yvelinesis is an ideal student town with accommodation, restaurants, sport, and culture. This program combines teaching industrially relevant computational software and methods within a multicultural environment.
For more program information, please visit the
program website
.