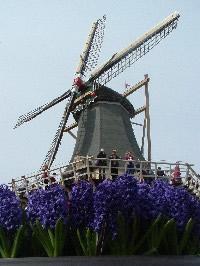 Study Psychology or the sciences at the Vrije Universiteit Amsterdam (VU). Located in the South of Amsterdam and boasting a diverse student population, the VU offers a wide array of courses taught in English by professors and researchers who are among the best in their fields. Take classes with Dutch and international students, and gain an international perspective that only comes with study abroad.
According to Lonely Planet, 'Amsterdam combines a huge case of big city exuberance with small-town manageability. Amsterdam's quintessential Dutchness shines through: the 17th- and 18th-century architecture, the fleets of bicycles, the tree-lined canals and scattered parks all contribute to the mood of the city.' The Dutch are known for their openness and tolerance which has helped give Amsterdam its reputation as a place for experimentation in the arts, social welfare, environmentalism, and lifestyles.
Because Dutch is not frequently studied outside of the Netherlands, mastery of English is a core feature of Dutch education and many people in Amsterdam speak fluent, colloquial English. Dutch universities have sought to attract international students by offering courses taught in English in a variety of fields. This program offers students the chance to integrate academically and culturally with the Dutch people without prior study of the Dutch language.
For more program information, please visit the
program website
. This program is sponsored by:
IES
.