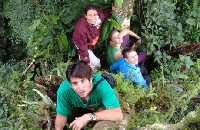 The CIEE Monteverde Tropical Ecology + Conservation program is designed for students with biology-related majors who have completed at least one year of introductory biology and one elective in ecology and seek intensive, sophisticated tropical field and course work in Costa Rica from both theoretical and taxonomic perspectives.
Costa Rica, a country committed to preserving natural parks and biological reserves, is an excellent location in which to pursue tropical biology studies. As part of a land-bridge between North and South America, the geographical and climate conditions allow flora and fauna of both continents to coexist, creating uniquely diverse ecosystems.
Monteverde is a small community of 4,000 that accommodates up to 200,000 tourists each year. Its forest is located in the largest private reserve in Central America and reflects a long heritage of grassroots conservation. Monteverde's Cloud Forest has been studied for over 25 years by both visiting and Costa Rican biologists. This widens the research opportunities available and acquaints students with practical biological problems associated with agricultural development, eco-tourism, and grassroots conservation efforts in developing countries.
For more program information, please visit the
program website
. This program is sponsored by:
CIEE
.