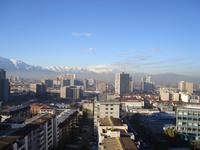 Surrounded by snow-capped mountains, Santiago is a sophisticated, modern city with a population of more than 6.6 million residents. It is also the capital of Chile, a country with one of the strongest and most diverse economies in South America. Because Chile has a community-centered public health care system, studying in Santiago allows you to gain public health-related experience and an appreciation for culturally-based health care practices.
Designed for advanced Spanish students in health-related majors such as Pre-Med, Nursing, Public Health, and other health-related fields this program offers unique courses that explore public health and Spanish language through an in-depth and hands-on approach. World-class professors enhance your academic experience and provide you with new perspectives each day in class.

For more program information, please visit the
program website
. This program is sponsored by:
IES
.