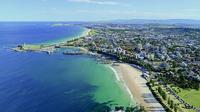 Wollongong, where the mountains meet the sea. One of the closest campuses to the beach, UOW offers some of the best opportunities meet Australians, as most students at other campuses tend to commute. An hour-and-a-half train ride from downtown Sydney, Wollongong is a large, yet affordable city.
UOW courses have been developed by teachers who are leading their fields. The student-focused approach to teaching and learning means you will have the guidance and support you need. And this all takes place in a city on one of Australia's most beautiful coastlines. Experience the best of the Australian lifestyle - sun, sport, and outdoor living, all while earning credit towards your degree.

For more program information, please visit the
program website
. This program is sponsored by:
IFSA-Butler
.