Program Details
Discovering Agriculture, Food, History, and Culture of Greece




The arrangements for the travel, housing, meals, excursions and course content of this program have been made by the leader. Questions about this program can only be answered by the program leader listed below.


Program Type
Departmental
Program Location
Thessaloniki and Athens, Greece
Course #
SA 21262
Duration
Spring Break
Upcoming Program Dates
Spring Break 2023
03/11/23 to 03/19/23



Program Leader
Name
IPIA
Purdue University
Rm 104 Agriculture Administration Building (AGAD)
West Lafayette, Indiana 47907-1168

Phone: 765-494-6876
Fax: 765-494-9613
Email: AgAbroad@purdue.edu

Due to COVID-19, programs may be altered or adapted with little notice
Program Description
DISCOVERING AGRICULTURE, FOOD, HISTORY AND THE CULTURE IN GREECE
Greece | March 11-19, 2023
Credits: ANSC 49300 - 2 credits
Cost in 2020: $3350
Join us this Spring Break as we journey to Greece to learn about the agriculture, food, history and culture of this unique country, prominently situated in the culturally-important Mediterranean Basin. Our journey will begin in Thessaloniki where we will work closely with Perrotis College to learn about the region's animal production systems, olive, and olive oil production, and a variety of other agricultural practices. We will then journey south to Athens to learn about one of the world's most ancient cities. This is sure to be an unforgettable, educational, stimulating and inspiring experience!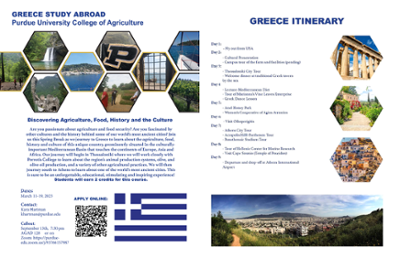 Program Cost
Students pursuing program participation accept financial responsibility. Purdue will take measures to mitigate financial risks, although will not be liable for loss.
Financial Aid
Purdue University financial aid may be applied to the costs of studying abroad. Students interested in receiving financial aid should
NOTE: Recipients of certain tuition remission and scholarship programs should pay careful attention to the regulations for using those benefits for study abroad. Ask your financial aid advisor about any limitations.
Click here for a list of scholarships and grants available to assist with the costs of studying overseas.