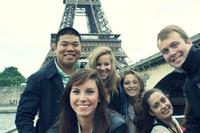 Study international marketing and brand management in Paris, one of the world's great cities—home to Global Fortune 500 companies and luxurious brands, as well as sidewalk cafés, stunning gardens, outdoor markets, and more.
As an important international business center that boasts one of the highest GDPs of any city, Paris is an ideal city to study Marketing.
The program will expand your understanding of the marketplace for luxury brands and the marketing of products from around the world. Using examples like Louis Vuitton, Givenchy, and Dom Pérignon, you will gain an educational experience that you couldn't get at your home campus.

For more program information, please visit the
program website
. This program is sponsored by:
IES
.