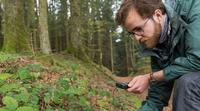 The environmental movement took root in Freiburg long ago—and now it's a way of life. Known for taking the lead in the development of eco-friendly technologies and architecture, Freiburg also attracts researchers and environmental organizations from around the world. Come study Freiburg's many unique contributions to this important movement.
This English-taught program allows you to explore topics in disciples like Environmental Studies, Forest Ecology, and Sustainability while living in Freiburg, located near the beautiful Black Forest and Rhine River Valley.
All courses except German language courses are organized as three-week modules so you can focus on each topic you study, and faculty can take you and your classmates on extended course-related trips in and around Freiburg. Most courses are taught at IES Abroad by faculty affiliated with the Albert-Ludwigs-Universität Freiburg. Students may be able to take some modules in the Department of Environment & Natural Resources at the University, depending on availability. Optional University modules and research assistantship opportunities are offered after the regular term, through February for the fall term, and through late July for the spring term.
In addition to Environmental Studies topics, you can study German language at the beginning, intermediate, or advanced level at the SprachLehrInstitut (Language Teaching
Center) of the Albert-Ludwigs-Universität Freiburg.
For more program information, please visit the
program website
. This program is sponsored by:
IES
.