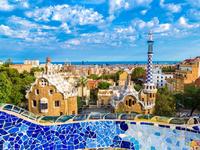 Students applying for programs in Spain must have a valid, usable passport at the time of application. Passport must be valid for 12 months after the program end date.

Barcelona is both a cosmopolitan city and one rooted in ancient tradition, making it the ideal place to soak up Spanish language and culture. Spend the semester immersed in language learning at CIEE's partner school, Universitat Pompeu Fabra (UPF) and taking area studies classes at CIEE Barcelona across a range of academic areas.

For more program information, please visit the
program website
. This program is sponsored by:
CIEE
.