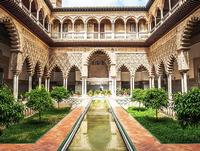 Students applying for programs in Spain must have a valid, usable passport at the time of application. Passport must be valid for 12 months after the program end date.

Seville is the political, religious, cultural and intellectual capital of Andalucia. The city's cathedral and the royal Alcazar Palace, located in the historic city center, exhibit the influences of the Muslim, Jewish and Christian cultures that flourished in Sevilla until the late 15th century. Ferdinand and Isabella sent Columbus, Magellan and Vespucci to the new world from the banks of the Guadalquivir River.
Combining theory and hands-on practice, this program is designed for students considering a career in communications.
There are two options for this program:
Communications, New Media and Journalism in Spanish (for students with at least 4 semesters of Spanish)

For more program information, please visit the
program sponsor's website
(CIEE).