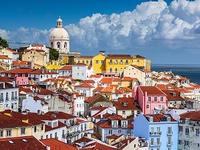 The western tip of Europe is steeped in ancient history, creating a rich base to launch the study of the Portuguese language and culture. Older than London, Paris, and Rome, the hilly seaport of Lisbon has always been a major European political, economic, and cultural center. The capitol city is full of intriguing contrasts, witness tiny shops with fading facades versus mega malls, and narrow, cobble-stoned streets versus wide-open vistas. With a generous attitude towards foreigners, a holiday vibe, and a mild climate, it's a welcoming place with plenty to explore.

Students spend the semester immersed in Portuguese culture at CIEE Lisbon while taking courses in English or Portuguese at CIEE and CIEE's partner schools, FCSH-UNL (Faculdade de Ciências Sociais e Humanas - Universidade Nova de Lisboa) and ISCTE-IUL (Instituto Superior de Ciências do Trabalho e de Empresas-Instituto Universitário de Lisboa). All courses are complemented with CIEE co-curricular activities and excursions beyond the city to enhance classroom learning and provide intercultural understanding.

For more program information, please visit the
program website
. This program is sponsored by:
CIEE
.