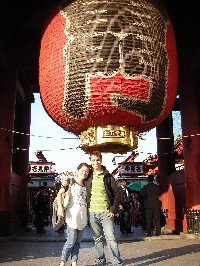 Study on the IES Abroad Tokyo Summer program and enjoy an ideal introduction to Japanese culture, while expanding your language skills.
As one of the world's largest metropolitan areas, Tokyo and its environs will challenge you to look at the world differently. Mastering public transportation, trying exotic foods, encountering the maximum urban environment that surrounds carefully nurtured gardens and parks, experiencing a lifestyle that combines fast-paced modernity with age-old traditions – all of these will expand your view of the world and offer insights into your own reality.
This program offers accelerate language learning with an intensive 6-credit Japanese course at the beginning, intermediate, or advanced level. In addition, students:
Live in Japanese residence hall-style housing in the heart of Tokyo

Experience life with a Japanese family while exploring a nearby city on a homestay trip

Participate in field trips to historic and cultural sites, and traditional festivals

Enjoy Japanese cultural activities including Japanese flower arranging, calligraphy, Japanese koto (floor harp), and more
For more program information, please visit the
program website
. This program is sponsored by:
IES
.