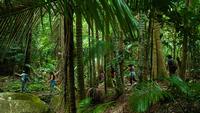 Rainforests are shrinking, but hope is not lost. In this program, you'll learn how environmental and social factors have contributed to forest fragmentation in the spectacular, once-vast rainforests of Australia. Learn about endangered species management practices, natural resource use in indigenous communities, and approaches to ecosystem restoration.
On the Rainforests of Australia program, you will take one 4-credit course. This course is participatory in nature and is designed to foster inquiry and active learning combining lectures, field exercises, assignments, and tests. This course is taught in English.

For more program information, please visit the
program website
. This program is sponsored by:
School for Field Studies
.