Program Details
A Taste of France - Exploration of French Cuisine, Food Production, Small Business and Culture




The arrangements for the travel, housing, meals, excursions and course content of this program have been made by the leader. Questions about this program can only be answered by the program leader listed below.


Program Type
Departmental
Program Location
French Riviera, Avignon, Lyon, Reims, Paris, France
Course #
SA 21238
Duration
Summer
Upcoming Program Dates
Summer 2023
05/09/23 to 05/18/23



Program Leader
Name
IPIA
Purdue University
Rm 104 Agriculture Administration Building (AGAD)
West Lafayette, Indiana 47907-1168

Phone: 765-494-6876
Fax: 765-494-9613
Email: AgAbroad@purdue.edu

Due to COVID-19, programs may be altered or adapted with little notice
Program Description
TASTE OF FRANCE: EXPLORATION OF FRENCH CUISINE, FOOD PRODUCTION, SMALL BUSINESS AND CULTURE
France | May 9-18, 2023
Credits: AGEC 49800 – 3 credits
Cost 
Get a taste of France while exploring Nice, Monaco, Provence, Lyon and Paris. Topics of study include local agricultural practices, small-scale sustainable food production, food-marketing, and international competition. Throughout the course, students will meet with various local producers and companies to learn about the production, marketing, and distribution of select local and international products. Although the program's primary goals are academic, a wide array of cultural activities will be included throughout the trip to give students a wider appreciation of the food, history and culture of France.?
Callout: September 28, 2022 - 6:00 PM - KRAN 758  ZOOM RECORDING  POWERPOINT SLIDES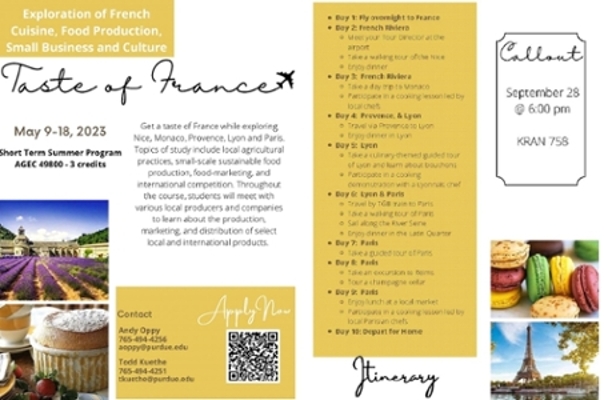 Program Cost
Students pursuing program participation accept financial responsibility. Purdue will take measures to mitigate financial risks, although will not be liable for loss.
Financial Aid
Purdue University financial aid may be applied to the costs of studying abroad. Students interested in receiving financial aid should
NOTE: Recipients of certain tuition remission and scholarship programs should pay careful attention to the regulations for using those benefits for study abroad. Ask your financial aid advisor about any limitations.
Click here for a list of scholarships and grants available to assist with the costs of studying overseas.