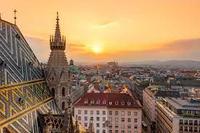 Study in a city recognized around the world for its influence on the development of classical music. Vienna has been home to many of history's greatest composers, from Haydn, Mozart, and Beethoven to Brahms, Mahler, and Schoenberg. To this day, the world-renowned Vienna Philharmonic Orchestra, the Musikverein, and the Staatsoper continue to help make Vienna a true "city of music."
Located in the heart of Europe, Vienna is a city of about 1.8 million inhabitants that have, since its founding in the 3rd century, served as a bridge between a myriad of cultures. As an important crossroads between North and South, East and West, the city became a natural melting pot for new ideas. Out of this cultural richness has emerged a wealth of artistic accomplishments and innovative thinking—a heritage that we explore in this summer program.
For more program information, please visit the
program website
. This program is sponsored by:
IES
.