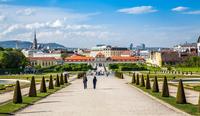 Vienna will be your classroom. Can you imagine learning about Freud's theories of psychoanalysis and then touring his home and the office where he practiced? Or studying politics and international organizations and visiting the UN, the OSCE, or OPEC? How about exploring art history in Vienna's world-famous galleries and museums? Welcome to study abroad! Wherever possible our courses take advantage of the city's historical, artistic, and cultural sites and include a hands-on, practical component.
Offering both English- and German-taught courses, the IES Abroad Vienna European Society & Culture program allows you to study the culture, history, business, and politics of a region that continues to play a major role on the world stage. Open to students at all German language levels, the program brings more than 60 years of experience to a variety of unique courses taught by faculty from top European institutions.

The IES Vienna Center is situated in the Palais Corbelli, an elegant eighteenth century palace in the heart of Vienna. It is just minutes away from the array of museums, theaters, and other major cultural attractions that have bestowed international fame on Vienna.
You can also enroll in an internship or field experience, which includes time spent working at your placement in addition to an academic seminar that helps you contextualize what you're learning.

For more program information, please visit the
program website
. This program is sponsored by:
IES
.