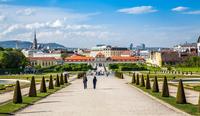 A stunningly beautiful city, Vienna occupies a unique position at the crossroads between east and west, north and south, long making the city a central meeting place for trade and international politics, as well as arts and culture. Imagine studying International Business in the birthplace of Peter Drucker, or learning about politics and international organizations and then visiting the UN, the OSCE, OPEC. This is study abroad!
Choose from a wide selection of courses in disciplines such as Economics, Finance, International Business, Management, Marketing, and Political Science. You can also enhance your experience by taking courses in Art History, History, Humanities, Psychology, and so much more.
Your studies will also take you throughout Vienna and outside the city, with a program-related trip where you'll visit companies like Red Bull in Salzburg, and BMW in Munich, as well as organizations in and around Vienna.
You can also enroll in an internship or field experience, including placements in banking, consulting, and not-for-profit organizations. This hands-on experience includes time spent at your placement and an academic seminar that helps you contextualize what you're learning.
Taking German is required, but no background in the language is necessary. If you have sufficient German language skills, you can also enroll in courses at the prestigious Universität Wien. There, you will experience the Austrian education system, be able to participate in University student activities, and make Austrian friends.
For more program information, please visit the
program website
. This program is sponsored by:
IES
.