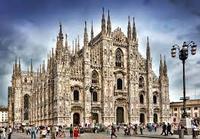 Known as the business capital of Italy, Milan is the place to study abroad for Business Majors seeking to gain an international perspective. What better setting for your career in International Business to take off than the home of Italy's stock exchange, the Borsa Italiana, and famous global companies like Giorgio Armani, Bugatti, and Pirelli?
IES provides one-of-a-kind courses that explore the world of business, as well as a wide variety of courses focusing on contemporary issues in Italy. All IES Abroad area studies courses are taught by experts in their fields and are conducted in English. There is also a guest lecture series by industry experts and an extensive list of course-related trips that help you learn more about the Italian business culture. Round out your study abroad education with a required Italian language course that is tailored to your skill level.
The IES Business Studies Program allows you to take courses in Business, Finance, Marketing, Economics, and Management taught by local faculty. Choose to enroll in a course at a local university—such as the AACSB- and EQUIS- accredited Università Commerciale Luigi Bocconi, one of the top business schools in the world—and learn about international business alongside Italian and international students.
A wide variety of other disciplines are offered, as well, so you can supplement your business studies with a course focused on liberal arts, psychology, communication, and more. You can also combine your coursework with an internship or community-based learning placement, where you will gain hands-on work experience that will stand out on your résumé. No matter which you choose, the experience will not only be valuable to your study abroad adventure, but to your career as well.
For more program information, please visit the
program website
. This program is sponsored by:
IES
.