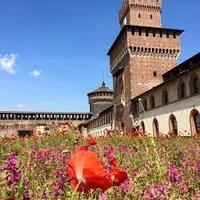 Ciao! Pack your bags and get ready to indulge in the culture of this modern city that is known for its world-class art, architecture, design, business and finance activities, and fashion. Absorb everything that Milan has to offer through IES Abroad Milan's wide variety of courses, internships, and unforgettable cultural activities.
Milan will be your classroom. Only in Milan can you marvel at the grandeur of the Duomo, see the artistic detail of Leonardo da Vinci's The Last Supper in person, find classical manuscripts at the Biblioteca Ambrosiana, and feel the pulse of this world fashion capital by strolling through the designers' retail haven known as the quadrilatero della moda, Milan's fashion district.

No matter what level of Italian you speak, we welcome you to study here, all while exploring and living immersed in the rich culture of Milan. You will be placed in an IES Abroad Italian language course that's been designed for you based on your language level so you can make the most of your time in Italy.
The Italy Today Program also offers courses in liberal arts and social sciences, all of which address aspects of contemporary Italian society. Courses are taught by highly qualified, local experts in their fields. You will take courses at the IES study center and you have the opportunity to take up to two courses at a local university to experience Milan like an Italian student.

Add international work experience to your résumé while earning credit by participating in an internship or community-based learning placement and accompanying academic seminar. We work with a wide range of local and international organizations, and are always seeking new opportunities to find the best fit for your career goals.
For more program information, please visit the
program website
. This program is sponsored by:
IES
.