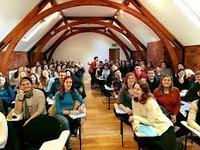 Writers in Ireland have used words and images to inspire, inform, persuade, and entertain for centuries—think W.B. Yeats' celebrated lines, James Joyce's "universal city" in Ulysses, the stage of the Abbey Theatre, and the blogs of The Irish Times. Through study of contemporary Irish authors, as well as those of the past, this program is designed to inspire and challenge writers to elevate their skills to the next level.
Whether you approach writing as a future vocation or as a creative outlet, our courses help you discover and explore your voice and hone your craft. From short story writing and visual narratives to poetry, non-fiction, and playwriting, our courses cover a wide variety of styles and genres.
Customize your course schedule with area studies courses from our Irish Studies program or a writing-focused part-time internship or community-based learning placement at no additional cost. What's more, each semester, students compile an anthology of creative works. You have the option to help create the anthology through the course Homespun Sails.
Attend our four-day Writers Retreat where you focus exclusively on your writing in an environment conducive to reflection, renewal, and inquiry. The retreat takes place at an undisclosed location, revealed to you just before you embark. Though designed for independent work, the retreat also includes workshopping opportunities, site visits, and guest speakers.
For more program information, please visit the
program website
. This program is sponsored by:
IES
.