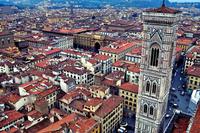 Imagine being in the heart of one of the world's powerhouses learning about the European Union and the culture of a global city's work environment, both in the classroom and at your internship site.
Florence is a vibrant city full of history but also with modern touches, you can see how globalization and immigration have played a role in Florence, try delicious Florentine food, and appreciate everything the city has to offer - all while exploring your interests in business.
The Global Business Institute is a certificate program, in partnership with the University of Pittsburgh's College of Business Administration (an AACSB accredited institution), offering you business-focused courses and an internship placement where you can personalize your experience to best fit your interests.
Students can earn the Certificate in Global Business in one of the following ways: five business courses; four Business courses and the Global Internship Course; three Business courses, the Global Internship Course and one of the elective courses; or four Business courses and one elective course.

For more program information, please visit the
program website
. This program is sponsored by:
CEA CAPA
.