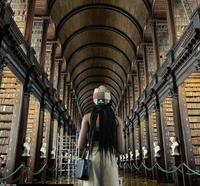 Any questions or requests for more information should be directed to Oksana Maksimov at omaksimov@purdue.edu.

This is a highly competitive program. Twelve exceptional student leaders of color from across the USA will be selected to conduct a comparative study of social justice leadership in America, South Africa, and Ireland.
During the four-week summer program, Fellows will travel to Washington, DC, Cape Town, Dublin, Derry, and Belfast to explore the legacies of Frederick Douglass, Abraham Lincoln, John Lewis, Nelson Mandela, Bishop Desmond Tutu, Daniel O'Connell, John Hume, and other giants of social change.
The program pays tribute to Frederick Douglass' transformative experience visiting Ireland more than 175 years ago. Douglass was embraced by the Irish people and met the famous Irish reformer Daniel O'Connell who expanded Douglass' view of social injustice and influenced his style of agitating for positive social change through non-violent social and political efforts. The Government of Ireland is again sponsoring the 2023 Fellows in celebration of this historic meeting and Ireland's commitment to social justice and peace building.
The program runs July 7 – August 4, 2023, with the first week taught virtually and the next three weeks taught on-site. Fellows will study how change-makers shaped pathways to peace, including the Emancipation Proclamation in America, the end of Apartheid in South Africa, and the Good Friday Agreement in Northern Ireland.
ATTENTION: Students who meet eligibility requirements for the Fellowship program, but are not selected, will receive a $1,500 Frederick Douglass Scholars Grant from CIEE that they can put towards a Purdue-approved CIEE program in the summer 2023, fall 2023, spring 2024, or summer 2024 terms. In addition, Purdue will award a guaranteed minimum scholarship of $1,500, up to a max of $5,000 (depending on financial need and program length/term) to use toward the above-mentioned Purdue-approved CIEE program during the summer 2023, fall 2023, spring 2024, or summer 2024 term.
For more program information, please visit the
program website
. This program is sponsored by:
CIEE
.