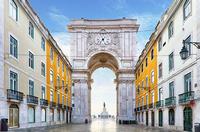 ATTENTION: CIEE will provide an automatic 'Trailblazer' travel grant toward airfare expenses of up to $1,000 to any Purdue student who participates in the spring 2024 program!

Older than London, Paris, and Rome, the hilly seaport of Lisbon has always been a major political, economic, and cultural European center. Portugal's capital city is full of intriguing contrasts, from its tiny shops with fading facades to its mega malls and narrow, cobble-stoned streets to its wide-open vistas. With generous attitude toward foreigners, Lisbon boasts a holiday vibe and mild climate, making it a welcoming place with plenty to explore.
When you study abroad in Lisbon, you'll live and learn in one of the safest and most vibrant cities in all of Europe! During your time abroad, you'll discover Lisbon's vibrant entrepreneurship culture. The city is home to several startup hubs and international co-working spaces that promote learning to help you thrive in today's globally diverse business world. Lisbon also houses many familiar world-wide companies - including Google, MasterCard, CISCO, and KPMG - that you may come across during your program.
Set in the business center of the city, CIEE Lisbon is conveniently located near Lisbon's major universities, public transportation, and plenty of small pastry shops where you'll be tempted to taste a different sweet treat each day of your time abroad! When at CIEE Lisbon, you'll have every opportunity to meet the local staff and spend time with other CIEE students.

For more program information, please visit the
program website
. This program is sponsored by:
CIEE
.